Cindy House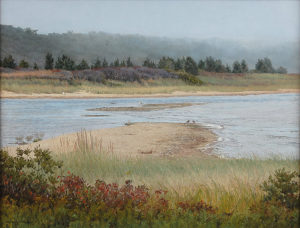 Her work has been described as being almost Zen-like in its ability to make you relax. The visual pleasure of her work transports your mind away from the pressure of life until you hear the sound of a bird's chirp, or you suddenly feel the warm summer wind making waves on a field of long grass. That cool feeling of an early morning mist, slowly rolling in over a coastal shoreline, and in the background you hear the soft sounds of a calm ocean lapping on the shore.  The tall majestic trees bending their branches down to touch a cool bubbling brook, as though they were cupping their hands for a drink. Then you suddenly look up to see that solitary bird gliding overhead in the warm summer sun. All this is seen and heard through your mind's eye as you slowly slip into a relaxed state of serenity and relaxation. This is the magic of a Cindy House painting.
Find the one that's your special place, and step into your own private world to relax and clear your mind.
Read more about Cindy House on Artist Profile: Cindy House
---
To receive notice of new works by selected artists, become a Private Member. Click here to learn more.
Works by this Artist: