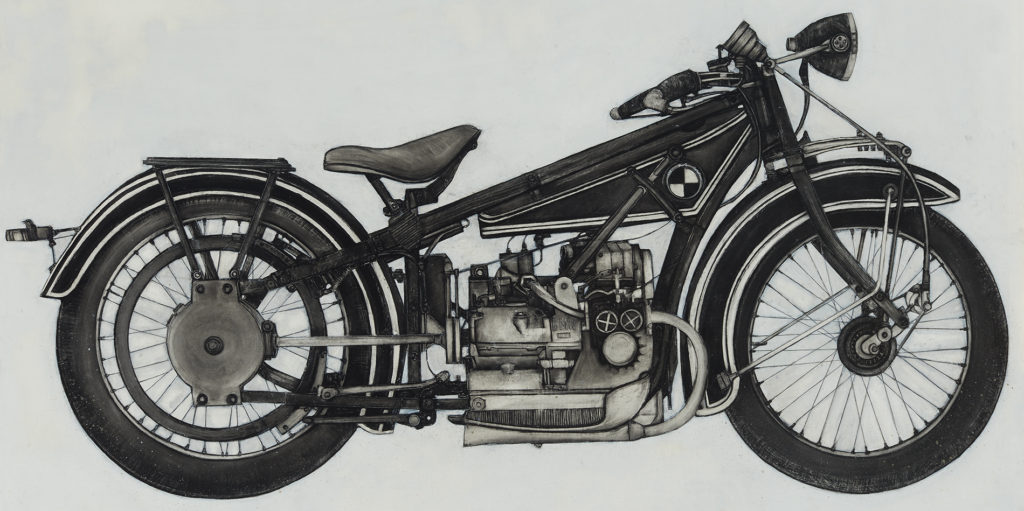 BMW Motorcycle
$20,300
Oil and Charcoal on canvas, 36″ x 60″
Often times, my subjects are every-day objects.  However, rather than settle on mundane versions of those themes, I like to work with subjects that are cool and that I can bring my point of view to in a unique and interesting way. 

One of those subjects is the motorcycle.  When doing research before embarking on a new series several years ago, I came across several vintage bikes from the 1920's and found myself admiring their art deco lines and bold gutsiness of style and performance. 

The distinctive lines of the BMW R3, so quintessential to the period, was one example that caught my particular attention.  Shortly before the creation of this motorcycle, BMW's focus was actually aviation and 1920 was their first crack at two wheeled transportation, but I simply had to work with this particular model. So much of what is compelling about this bike would be completely covered up years later.  But, at least, we can appreciate the beauty and form of this magnificent machine and how its inner workings lent themselves to both form and function by way of this piece. 
(Pricing includes frame selection within "Suggested Frames", shown below.)
Add To Collection