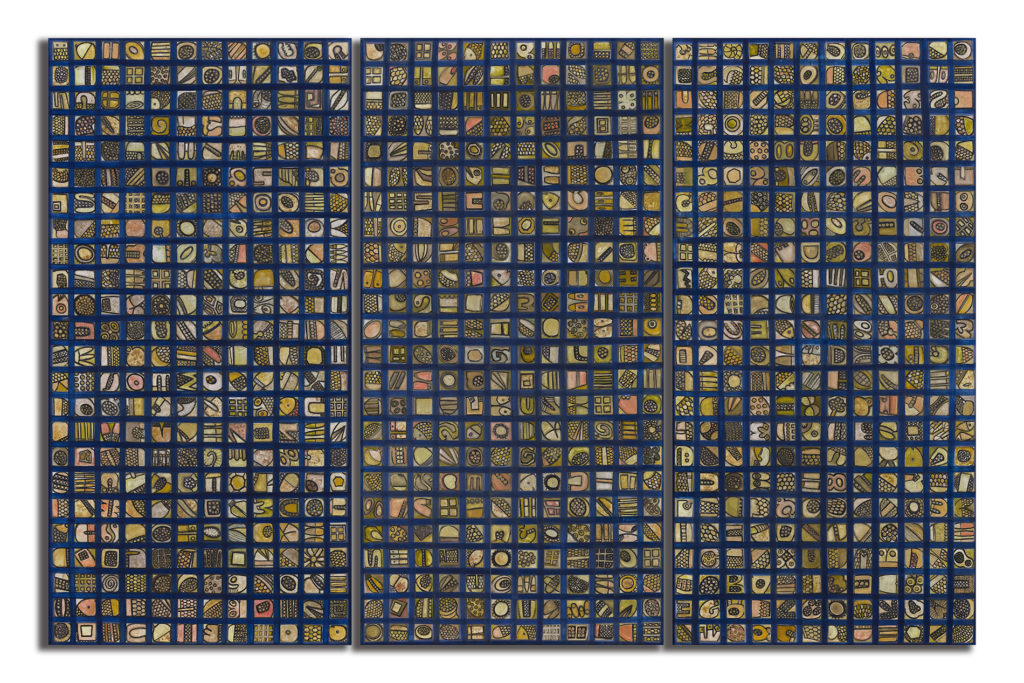 288.1, 288.2, 288.3
$49,000 5
Oil and Charcoal on canvas. Each panel: 48″ x 24″ (3 Panels, Sold as a set)
A continuation in the series, 288.1, 288.2 and 288.3, once again, plays with the push and pull between the looseness of abstraction and organization, this time with the added drama of density.  The third piece in the series, each canvas features 288 highly intricate and detailed objects, rendered in gold and copper tones against a royal blue grid, creating a large and bold color field that is both beautiful and whimsical, but thought provoking and meditative.

The execution of this piece was a long journey, requiring meticulous attention to each minute detail of each object.  Upon further inspection, one begins to imagine the potentially exotic origins of each object. Did they come from the bottom of the ocean, or perhaps another galaxy? The overarching idea being that it's far more rewarding to linger and submit oneself to the range of possibilities, as opposed to hastily procuring a specific algorithm to define the experience.

The very nature of creating abstract artworks exists in an ethereal place between the beautifully foreign and the strangely familiar. While rather challenging, it is extremely refreshing to produce a painting that requires the creator and the viewer to reflect inward and find one's own individual connection with the experience.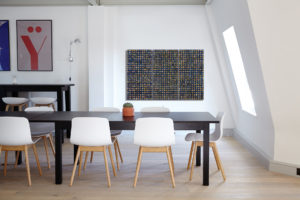 Add To Collection