Gary D. Hoffmann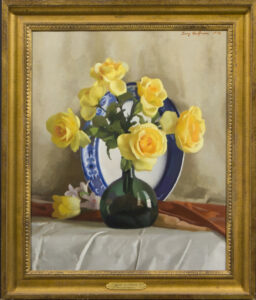 Gary D. Hoffmann studied with the late R. H. Ives Gammell, who in turn was trained by such Boston notables as William Paxton, Edmund Tarbell, and Joseph DeCamp. He has built his career upon the great heritage and traditions of The Boston School of painting; sound draftsmanship, beautiful design, color, and strong characterization are always present in his paintings. Hoffmann paints solely from life.
"I strive to capture the look of nature whether it be a portrait, landscape, or still life. Trueness of form and color values within a beautifully designed composition is my objective.  My work has been inspired by the 17th century masters, including Sir Anthony Dyck and Diego Velázquez, and the 19th and early 20th century painter John Singer Sargent."
Read more about Gary D. Hoffman on our Artist Profile: Gary D. Hoffman
---
To receive notice of new works by selected artists, become a Private Member. Click here to learn more.
Works by this Artist: