Artist Profile: Warren Prosperi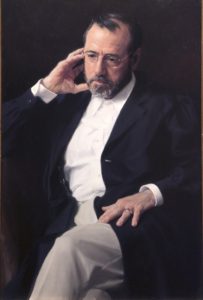 "A long, venerated tradition of American realism-not interrupted but augmented by Americans' fascination with photography-runs through Alfred Bierstadt, Thomas Eakins, Edward Hopper, Charles Sheeler, Alice Neel, and Andy Warhol, among others.
"Where edgy or ironic subject matter has most recently been used as the bona fides of this stylistic choice, Prosperi turns to older sources for confirmation of the power of perceptual realism, a power once rooted in the conception of the physical world as the revelation of the divine. In exploring the fall of light on objects and figures in naturally rendered environments, Prosperi exalts values of clarity, simplicity and directness familiar in Jan Vermeer and other masters of the form."
Warren Prosperi in his early twenties spent four years copying at the Museum of Fine Arts in Boston, MA, to gain a greater understanding of how a classical painting in the tradition of Optical Naturalism, was crafted. He met his wife, Lucia R Prosperi, in his mid-twenties, who became his artistic collaborator, and they founded Prosperi Studio, Inc. soon thereafter.
Notable exhibits and appearances:
National Portrait Gallery in Washington D.C.
Air Gallery in London
Lyman Allyn Art Museum in New London, CT
Capricorn Gallery in Washington,  DC.
Far Gallery in New York
Doll & Richards Gallery in Boston and Cambridge
Islip Museum on Long Island
Francesca Anderson Gallery in Boston
Boston Symphony Hall
Michael Allen Gallery in Boston
Vose Gallery in Boston (May 2011)
Their painting, "Epiphany 3," is part of the Museum of Fine Arts, Boston, permanent collection, and hangs in the Penny & Jeff Vinik Gallery in the Museum's new wing.
Their commissions are both private (focusing on both individual and group family portraits) and public (which also include individual portraits and historic murals).
Recent public commissions:
"Ether Day, 1846"- a large mural-size painting of the first public demonstration of Ether, hanging in the Ether Dome at Mass General Hospital
Drs Jerry Austen & Sam Thier, former leaders of Partners in Boston (to mention only two of the thirty-some portraits painted of distinguished doctors commissioned for MGH, presently hanging throughout MGH)
Two murals for Rhode Island Hospital hanging in the Lobby, depicting care in 1868 and 2000
Six historic murals on permanent display at the Joslin Diabetic Clinic
Dr. Donlin Long, former Chief Neurosurgeon Johns Hopkins
Retired Massachusetts Senate President William Bulger
Vartan Gregorian, President Carnegie Institute
Adele Simmons, former President, MacArthur Foundation
Barry Mills, former President of Bowdoin College.
They have recently completed two historic murals of Bunker Hill and Lexington Alarm – part of their "Suite for the Citizen Soldier" Memorial project, and are currently working on their "Boston Marathon Bombing" – the third mural and contemporary piece of the Memorial.
Prosperi's landscape work is hanging throughout the United States and Europe, which is also in the tradition of Optical Naturalism, as developed by the American Impressionists.
Read more about Prosperi in the several pieces written about his portrait, mural work and more: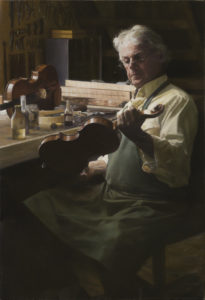 Susan Boulanger for Art New England, May/June 2011
Vose Galleries:  "Duets: Themes and Variations" at Vose Galleries written by Marcia L. Vose
Boston Globe: Prosperi painting depicts pivotal moment in the Battle of Bunker Hill
July 01, 2011|By Cate McQuaid, Globe Correspondent
See more at the Prosperi Studio website: Prosperi Studio