Artist Profile: Sam Vokey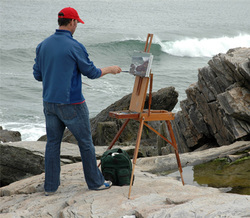 Sam Vokey attended the R.H.Ives Gammell Atelier in Boston for four years – a European style atelier scholarship program that only admitted 5 students at a time. Those students worked closely with a master painter to learn the fundamentals of painting still life, landscape, portrait and figurative work.
His painting style is most closely associated with the Boston School tradition, which crosses Realism with some of the softer edges and painterly qualities of Impressionism. Vokey's still lifes and landscapes demonstrate a strong consideration for creating balance between the overall composition and the light and dark values in his paintings.
Recent Exhibits
2015: 3-Man still life show at Tree's Place on Cape Cod.
2014:  2-man show at Trees Place.
November 2013: One-man show at Powers Gallery in Acton, Ma.
2011: One-man show of 25 oil paintings at Powers Gallery.
2009: 2 one-man shows – Powers Gallery in October/November and at The Guild of Boston Artists in Boston in December.
He has also had numerous one-man and group shows at Trees Place and a one-man show at The Copley Society.
Awards
2012: The Frank Benson Award at The Guild of Boston Artists (2nd time) and the  R.H.Ives Gammell Award.
2009: Won the Edmund Tarbell Award, an honor given to first prize in painting at the annual All Members event held each spring.
At the Copley Society of Boston, he has won numerous awards, including the status of Copley Master.
2007: Awarded Copley's John Singleton Copley Award, the highest honor given by the Copley Society.
Mr Vokey's paintings have been included in many books and magazines including the cover of the book The Boston School published by Blue Tree Press. He was also the cover artist of the 2005 issue of American Artist magazine.
In 2006, one of Vokey's still life paintings was acquired by The Cape Cod Museum of Art for the permanent collection. His paintings can be found in many corporate and private collections including Boston Private Bank, Bank of America, Merrill Lynch, AT&T, Blue Cross Blue Shield, Liberty Mutual, Meredith and Grew, Marriott Hotels, and The Smuckers Company. Henry Kravis of KKR & Co. attended a show and bought 2 paintings. Vokey's paintings can also be found in private collections nationally and internationally including the private collection of a United States Senator and the former President of Ireland and the former President of Uruguay.
Sam Vokey is a graduate of Bowdoin College in Maine and Middlesex School in Concord, MA.
Don't miss Sam's website, here: SamVokey.com