Artist Profile: Pamela Pindell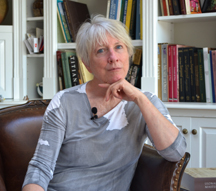 In 1968, Pindell studied at Syracuse University's "Visual and Performing Arts" school, and then transferred to Temple University in Philadelphia so that she could travel to Rome to study at Tyler School of Art.
In Rome, she lived one block from Piazza del Popolo and visited Caravaggio's "The Conversion of St Paul" in the Santa Maria del Popolo nearly daily on her way to school. It was not the subject matter that fascinated her, but the style of painting, the power, the beautiful brushwork and the strong chiaroscuro in the work. "Rembrandt is my favorite painter for all of those reasons, plus heart and sensitivity, but Carravagio got me on my way."
She began working with Sid Willis, master painter trained in the Boston School tradition, who became her mentor. "The Boston School" is a "school of thought and training" that incorporates Monet's brilliant use of vibrating complimentary color with classical drawing and permanent painting techniques.
Willis had trained with Robert Douglas Hunter, who had worked with Ives Gammel, and this lineage goes back to Bouguereau in France, with an eye on Monet. Sid was a brilliant, generous teacher who sent her away on missions to study works by Paxton, Tarbell, Enniking, Hassam, Bunker, Lilian Wescott Hale – the list is endless.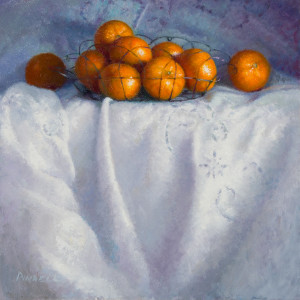 "With this foundation and my love of depth, shadow and chiaroscuro, I have tried to capture the emotion I feel when I look at my subject. If I can translate the beauty I see and the excitement I feel, I have a chance of stirring a similar emotion in the viewer. And, of course that is the third portion of this whole; painter, painting and viewer."
"People always ask me why I paint. My best answer is discovery. I see each new project as a unique mystery, amazed as my excitement for something beautiful that I am gazing at emerges from the canvas. I am taken, as we all are, with a beautiful face with heavy eyelids, a combination of achingly beautiful lines or colors in an object, the mystery of fog, the cozy holiday feel of snowfall, and I have to try to put it there and share it."
Exhibitions
2014 "Boston Fine Arts Show", Boston, MA

The Guild of Boston Artists 100th Anniversary Show, Newbury Street. Boston, MA

2013 "Boston Design Show", Boston, MA
"Boston Fine Arts Show", Boston, MA
"In Praise of Women", The Cahoon Museum of American Art, Cape Cod, MA
"Solo Show", The Gallery at Four India, Nantucket, MA
"In Praise of Women", Cahoon Museum, Cotuit, MA
2007-2013 "Museum Show", Boston International Fine Arts Show, Boston, MA
2012 "Artist Talk", Tree's Place Art Gallery, Orleans, MA
2011 "The Subject is Light", The Lyman Allyn Art Museum, New London, CT
2010 "The Subject is Light", Cape Cod Museum of Art, Dennis, MA
2008 "Close to Home", Solo Show, Cape Cod Museum of Art, Dennis, MA
"Summer Exhibition", St. Botolph Club, Boston, MA
2006 "Garden by the Sea", Commission by the Arts Foundation
National Shows
Cape Cod Artists Association All New England Exhibition
1990 1st Prize in Pastel
1987 2nd Prize in Still Life
1982 Honorable Mention in oil
Pastel Society of America, NYC
1990 Adriana Zahn Award for Floral 1990
Nantucket Artists Association, Nantucket MA
1989 Jurors Choice
1986 Best In Show
Hudson Valley Artists Association, White Plains, NY
1986 Jane Peterson Still Life Award
Salmagundi Club, NYC
1987 Elliot Liskin Memorial Award for Still Life
Audubon Artists, NYC
Lotus Club, NYC
Catharine Lorrillard Wolfe, NYC
Allied Artists, NYC
Academic Artists Association, Springfield, MA
1985 Harriet Lumis Award for Still life
1984 Morton Donald Catoc Memorial Award
Ogunquit Art Center, Ogunquit, Maine
1983 Nunzio and Dorothy W. Vayanna Memorial Prize for Portrait
1982 Patron's Award
1981 Patron's Award
Awards
2014 Frank Benson Award at the Annual Juried Members Show
2011 Patron's Choice
2011 North Shore Arts Association Award
2007 Ives Gammel Award
2002 Members Show Award
2000 Edmund Tarbell Award
1999 Second Prize Members Show
1998 Guild Award of Merit
1997 Guild Award for Figure
1993 Guild Award of Merit
Galleries
The Guild Of Boston Artists – 162 Newbury Street, Boston MA 02116
Collins Galleries – 12 West Road Orleans, MA 02653
The Gallery at Four India – 4 India Street, 2nd Floor Nantucket, MA 02554
Kristan Chamberlain Gallery – PO Box 115 Barrington, Rhode Island 02806
Publications
2013  The Guild of Boston Artists – 100 Historic Years (video), Jul, 2013
2013  "Pamela Pindell – The Figure" Collins Galleries (video) , Jun, 2013
2012  "Dual Connection" American Art Collector, January Issue
2011  Cape Cod Life Magazine Annual Arts Addition, June
2010  "The Subject is Light" Catalogue, Cape Cod Museum of Art, Dennis, MA
2010  "A Boston Tradition" American Art Collector, March Issue
2007  "Pamela Pindell, Portrait Artist" The Nantucket Magazine, Nantucket, MA, Fall Issue
2001  "A Painterly Palette, The Art of Pamela Pindell" Nantucket Magazine Summer Issue
1989  "Securing Gallery Representation" American Artist Magazine, June Issue
1988  "Paintings by Pamela Pindell" Antiques and Arts Magazine, Cape Cod MA, Summer Issue
1987  "Pamela Pindell, Artist" The Nantucket Journal, Nantucket MA, Premiere Issue
See more about Pamela Pindell on her website: Pamela Pindell