Artist Profile: Neil Marshall
Neil Marshall is a self-educated artist who has spent many years learning ancient painting techniques,ground recipes, working with glue, dyes, pigments, and other materials, and creatively combining them with contemporary materials. He is influenced by the 20th century modern art masters. The synthesis of of the varied media he uses result in large canvases of abstract contemporary wall art.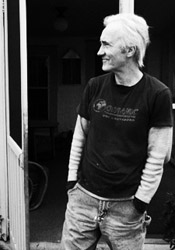 My artistic experience consists of a dual nature:

To produce aesthetic works that imbue beauty and mystery while fulfilling a personal passion to explore and follow the creative process. This  approach is a culmination of my anthropological studies, extensive travels and a keen interest in the global pulse. I create my artwork using a wide variety of materials in  a myriad  of combinations along with the elements and principles of art composition.

The materials used are reflective of modern Industrial  society, i.e. papers from current social media, synthetics, high tech lacquers and color fast dyes while bringing along tradition with the use of encaustic, rabbit skin glue, raw pigments, and authentic gesso. To me, these materials are a tactile representation of the industrial society in which we live
Artist's Experience
Exhibitions and activities:
Fishbone Gallery Atl,Ga Group Show April 2001
20th Century Antiques Atlanta,Ga 2001-2006
Blue Rat Gallery Group Show Fall 2003
Realm Art Gallery The Realm Buckhead Atlanta 2006
Pace Academy Art Show & Auction Fall 2007
Domus Atlanta.Ga 2006-2007
Mason Murer Gallery "Fresh Blood" Group Show Aug 2007
Mason Murer West Paces Ferry Atlanta Ga Fall 2007
Daniel Mahmood Gallery Chelsea New York 2007
Addo Foundation Drive & Auction Group Show Fall 2010
Savvy Snoot Atlanta Ga 2008-2011
Besharat Galleries 2011
Stan McCollum Gallery 2013 solo exhibition "Variation on the Medium"
Stan McCollum Gallery 2014 solo exhibition "Variation on the Medium 2"
Artwork featured on USA network series "Satisfaction" 2014
Modern Homes Expo Atlanta 2015
Showing presently in Besharat Galleries2016 Atlanta.Ga
Roche-Bobois Atlanta Ga 2016
Work is in private collections in Atlanta,New York, and London.
Visit Neil at his website, here: Neil Marshall Studio