Artist Profile: Frederick Kubitz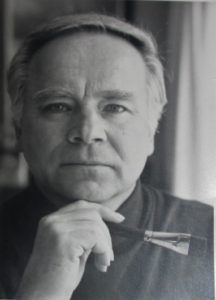 Frederick Kubitz is a professional oil and watercolor artist who paints in a bold, vigorous personal style.  He invites the viewer to look into his world and observe his impressions of traditional New England subjects.  He displays in his paintings an imaginative use of natural light that translates into a luminescent quality.  His compositions are dramatic and create an emotional mood.  By the use of fresh colors, glazes and precise brush strokes, he shows virtuosity and mastery of his chosen mediums.  His representational paintings communicate visually what is on his mind.
The theme of his paintings cover a wide range of topics featuring  Maine Harbors, Cape Cod Dunes, Vermont Countryside, New Hampshire Ski Trails, Boston Cityscapes, Maritime Subjects and many other scenes from his travels throughout the U.S. and Europe.  Mr. Kubitz feels it is essential to the painting process to work on location; to extract the essence of a scene while "on the spot" and later develop these studies into major paintings in his Wellesley studio.
Kubitz's formal training as an architect is evident in his portrayal of old New England buildings.  His knowledge of structure and keen eye for detail reinforces the permanence and stability of these edifices which are often important elements in his compositions.
Frederick is especially interested in painting scenes of Boston and its historic places.  His painting entitled "Trinity Church – Copley Square" was reproduced as a signed and numbered limited edition lithograph.  Its success prompted the reproduction of a series of limited edition giclee prints about Boston and other New England subjects through the Master's Collection published by Kane Graphics of Boston, MA. (www. kane-gallery.com.)
Frederick Kubitz's work is represented in the collections of the following companies and firms:
The Ford Motor Company
Fidelity Corp.
Western Electric
Liberty Mutual Group – Boston
New England Mutual Ins. Co.
Marriott Hotels
Former Shawmut Bank
Harvey Industries
Former Fleet Bank
The Cabot Corp.
Verizon
Sullivan &Worcester Attys.
Maryland Bank of No. America*
Town of Wellesley,  MA
Choate Hall & Stewart Attys.
Quincy Mutual Fire Ins. Co.
Karp & Liberman Real Estate Develop't
…and many private collections not listed
* MBNA now Bank of America has collected well over one hundred works by the artist
Frederick Kubitz is the recipient of many prizes and awards attesting to the excellence of his work. His paintings have been included in the American Watercolor's nationwide tour of museums and places of exhibition and his painting "Center Harbor, New Hampshire" was published on the cover of Yankee Magazine.
Kubitz exhibits his art work in galleries on Boston's Newbury Street, Wellesley, North Shore, Cape Cod and in galleries from Maine to California.
PROFESSIONAL ASSOCIATIONS
American Watercolor Society
American Society of Marine Artists
Guild of Boston Artists (Past Vice President)
New England Watercolor Society (Past President)
Rockport Art Association
Copley Society of Boston
Wellesley Society of Artists (Past President)
ONE MAN SHOWS AND OTHER PLACES OF EXHIBITION
Kane Gallery – Boston, MA. 1993
Todd Gallery – Wellesley, MA. 1992 – 2010
One man shows Guild of Boston Artists 1989, 1991, 1993, 1997, 1999, 2002, 2005, 2008
Maine's Massachusetts House Gallery – Lincolnville, ME 1990 – 2003
Maine Maritime Museum ASMA Exhibit 2008
Marco Island Art League – Marco Island, FL. 1991
Ogunquit Art Center – Ogunquit, ME. 1979 – 1983
American Watercolor Society International Exhibition – New York, NY. 1992 – 1996
The Salmagundi Club Open Show – New York, NY. 1988
DeCordova & Dana Art Museum – Lincoln, MA.1980
The Springfield Museum of Fine Art – Springfield, MA. 1980
New England Watercolor Society Open Exhibition – Boston, MA. 1986 – 2016
Hudson Valley Art Exhibition – White Plains, NY. 1984
Duxbury Art Complex – Duxbury, MA. 1987, 1995
Copley Society of Boston – Boston, MA. 1983
Mystic Seaport Maritime Gallery – Mystic CT. 1995 – 2016
Galleria Prova – Tokyo, Japan 1999
Weatherburn Gallery – Naples, Florida 2005 – 2007
NOTABLE AWARDS
Rockport Art Assoc.- Domenic Di Stefano Mem. Award 2011
Rockport Art Assoc. – George O. Davies – Silver Medal 2010
Rockport Art Assoc. – Antonio Cirino Memorial Award 2009
Rockport Art Assoc. – Ruth Minas Memorial Award 2006
Rockport Art Assoc. – Mary Bryan Memorial Award 2006
Rockport Art Assoc. – John & Margaret Loughlin Award 2002
Rockport Art Assoc. – Robt. Calrow Mem. Award 2000
Rockport Art Assoc. – Winifred J. Hibbard Mem. Award 1999
American Watercolor Society Int'l Exhibition – Ogden Pleissner Award 1996
New England Watercolor Society Annual Exhibition – Gold Medal 1994
New England Watercolor Society Annual Exhibition – Silver Medal 1996
Cape Cod Art Association Annual Open Show – Silver Medal 1983
Academic Artists Association Awards 1983, 1987, 1988, 1995
Guild of Boston Artists Award 1995
PUBLICATIONS
Publication: "Best of Watercolor"- Rockport Publishers; First Edition 1995
Watercolor Magic Magazine "The Winner's Circle" 1995 Water Media Show Case
Publication: "Best of Watercolor, Painting Color" – Rockport Publishers 1997
Publication: "Best of Watercolor, Painting Light & Shadow" – Rockport Publishers 1997
Publication: "Best of Watercolor, Watercolor Expressions" – Rockport Publishers 1999
Publication: "Best of Watercolor – Schlem Collection" – Rockport Publishers 2002
Cover of Yankee Magazine 1982